Poutine Routine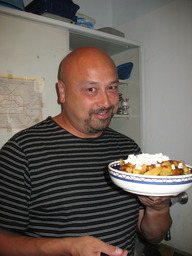 David Cooks Poutine
in Berlin

BERLIN, Germany
July 27, 2012

This leg is nearly, but not quite, a repeat of the visit to Germany I made exactly one year ago. Most of the friends I caught up with in this country last July--Lars, Lykke, Uwe, Jenn, and Friederike--are all here with me in Berlin, today.

Lars seems to be in that same slippery limbo I find myself in, as well. Last year he accepted a package during a corporate restructuring to leave his job of 25 years at a Danish telecom. Though Lars didn't see that move as an early retirement the continued severance pay has been enough for him to string along and live day-to-day. This past year he's just been enjoying living life as it comes. Lars does fret that it might be hard to not only to find another job eventually one day but to re-orient himself back into the regular routine of maintaining any work at-all after taking this past year off. I dismiss his concerns, telling him that not until after he's kept on traveling, wandering the world, been unemployed for 9 years, and then out seeking work--will he be as out of the loop as I am.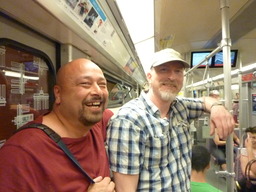 Lars and David on U-Bahn

Lars' partner Lykke is doing great as well, carrying on in her place in southern Denmark near her hometown in Falster. I can't quite comprehend how those two have managed to maintain their long-distance relationship between Copenhagen and Nykoerbing for over a decade; they must be among the most solid couples I know.

The other couple I called on while here last year, Jenn and Uwe, have fallen into a role reversal. Jenn--the American--has just returned to work back here in Germany while her husband, Uwe--who is originally from Germany--is working back in the U.S.. The current economics of their work situation mean it makes more sense for Jenn to teach at an international school here in Berlin while Uwe can bring a second income in teaching German to diplomats at the U.S. State Department of State back in Washington, D.C..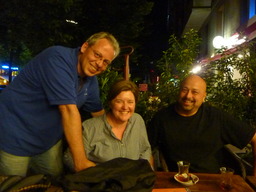 Uwe, Jenn, and David
take Turkish Tea Together

Both couples joined me and Friederike for a return visit to Bejte, that Ethiopian restaurant near Friederike's apartment off Nollendorfplatz for a meal filled with injera, doro wot, and mead. Is it odd that though I've never been to Ethiopia myself I so love the cuisine and so strongly associate it with cities so distant from its origins: Seattle and Berlin?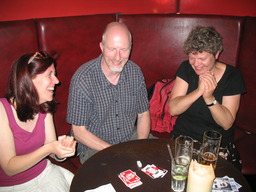 Friederike, Lars, and Lykke
Play "Fill or Bust!"

Ethiopian hasn't been the only international meal over my time here. I cooked up a batch of my favorite new dish one night at Friederike's apartment: poutine. I confess that I wasn't all that excited by french fries soused in salty gravy and cheese curd when I first tried it back in Quebec--but I'm definitely acquiring a taste for the dish.

Though in principle I'd rather not duplicate such a recent journey, my next stop will also be along that same route west where I paused while passing through Germany one year ago. Friederike originally hails from Aachen--the last city I stopped when leaving Germany last year.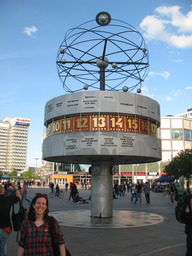 Friederike in
Alexanderplatz

This time, we're planning on making the journey to Aachen together. She'll take this weekend getting away from her teaching job here in Berlin to call on family back in her hometown. We'll book one of those cheap tickets on the regional trains that costs very little for one or more people to use on the same itinerary.

Fair enough. She came out to Seattle some years ago to visit my hometown. Now I get to have Friederike play tour guide in the place where she grew up.

Next stop: Aachen