Pear Crisp II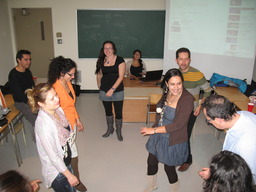 Last Class with Madame É.

QUÉBEC, Canada
November 1, 2012

My classmates presumed they knew my tastes well enough to guess what I might contribute. "Are you going to bring the hookah pipe again?", one student asked me more than a little hopefully the day before our party. "Did you bring couscous again?", another asked me when we were setting the tables with the dishes we'd cooked up.

Rather than one of the Middle-Eastern treats my classmates expected I might bring I surprised them instead with a traditional North American dessert: pear crisp.

The occasion was our final session with activity coordinator Madame É. In fashion typical for our tight-knit group of students we held a potluck and converted the classroom into dance floor. Mindful of my two left feet the party-happy Columbians patiently showed me the most basic of salsa steps. I love my classmates.

I'd been disappointed a few weeks prior when a scheduled bake-off was cancelled. I wasn't upset so much by the thought that I might have missed an opportunity to win the grand prize. I just regretted missing what would have been a fun opportunity to share a favorite recipe with friends. Madame É.'s departure brought the perfect second chance to bake up another batch of pear crisp. I still had all the necessary ingredients in my kitchen.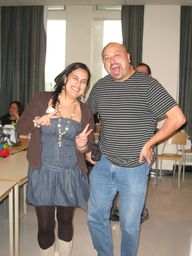 Called out onto
the Dance Floor

Monsieur C. sniffed at the pie plates I brought. He mistook my dessert for one promised by the Ukranienne classmate with Tupperware fetish who constantly shares her homemade treats with everybody. "Do you make desserts like this in the Ukraine, too?", he addressed her. "It's just like something we bake here in Québec."

Hearing that it was a familiar local dish I turned to Madame É. to ask her for the proper translation. I'd been struggling for the right word to explain just what I'd brought to the potluck.

"You bake these here, too? What would you call that there, the dish I made?", I asked her pointing at the two pie plates of pear crisp I'd contributed. "Is it still called a 'tart' with other ingredients atop the fruit? Or is there another word?"

"No. That's a croustade," Madame É. replied, writing the word across the chalkboard in her oversized handwriting. "We baked those at home when I was little."

My pear crisp was well-received. The bake-happy Ukranienne classmate devoured nearly half of the smaller crisp on her own. I had thought I was going to be left with the lion's share of the other crisp to take home and eat on my own, but four classmates came up with either paper plates or aluminum foil asking if they could bring some home "to share with their kids". Though that left far less pear crisp for me I happily obliged.

All this baking has brought back memories of another easy family recipe I remember preparing in the kitchen throughout childhood. There was a simple cheesecake I would bake up while living in China times I craved Western food for which there was no close local substitute. I'll prepare a test batch of that cheesecake again sometime soon to see if it's as good as I recall. I'm sure there will be more episodes of food and dance with all these classmates soon after we've begun the third term of Free French, our final course together. I'll have to provide something to augment my reputation beyond hookahs, couscous, and pear crisp.