Menu III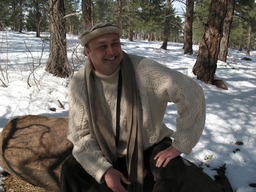 Day Hike along Shanahan Ridge

Boulder, USA
March 26, 2010

"For such a big world, I sometimes feel like I move in very small circles," I told Erin. She burst into that short, sudden laugh of hers: a sound I hadn't heard in ages--yet a sound still so familiar to me. Few people other than Erin would better understand what I was saying.

Erin and I have been friends since practically forever. If platonic relationships can be measured in precious objects we'll be coming up on our silver anniversary. She and I were closest of pals in high school--but then ran off in separate directions a couple years after graduation.

It's amazing we didn't lose contact. We were both all over the map. Erin chose to spend her next years living in long stints around the planet: first North Africa, then New York City, capped-off by recent years in Wales. Somehow, we still kept up. Many of our initial years of friendship were pre-Internet. That was an era when the most reasonable channel for friends living afar to communicate through was handwritten letter. We wrote. Somehow we managed to find each other in one city or another at the same time and catch up in-person every few years.

Erin has spent her recent years living here in Boulder. I came into town a few days ago. Some of the appeal of the trip is in seeing somewhere new to me, coming to a part of the U.S. I've never been. Some of the appeal is in getting out of Seattle for a week, just being in any different setting for a short time. But far more of what brings me here is the chance to catch up with a couple old friends who have settled in Colorado. The first half of this trip has been the latest, rare episode in the series where Erin and I renew our friendship face-to-face.

I've been here for three days. She's been playing tour guide, showing off the sights in and around Boulder. Wednesday was an aimless drive through mountains and trees without destination: up through the Roosevelt National Forest, down through the small town of Nederland, then back into town. Yesterday started with a short hike along Shanahan Ridge on the outskirts of Boulder--though mucky trails overladen with melting snow prevented us from extending it into a longer hike. No matter. Our time has been less about visiting particular attractions and more about being anywhere-at-all to spend time together catching up.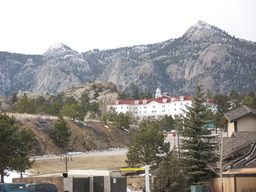 Sinister Hotel

I am playing the tourist. As with anywhere new I visit, I'm taking things in, at some level observing how life here differs. I have to say that Boulder feels mighty small to me. But, I can see how Erin has landed here. Unlike most small cities I visit, there is just enough variety that I don't think I'd go mad staying here for a longer period--which is my usual reaction to places this small.

In one telling measure of what's on offer in Boulder, I happened to be craving Vietmanese soup, pho, for lunch after our hike yesterday. I didn't assume that pho would be an option in a town of this size. But, Erin knew the one place to sate my craving: Chez Thuy. I've found just enough cosmopolitan touches in this little city to charm me:

There are serious institutions of Buddhist study here. Shops, restaurants, and teahouses are surprisingly global. There are so many businesses with offerings from some particular corner of the world: Mexico, Tibet, Nepal, Japan... Boulder has a lot more going on than the typical Rocky Mountain small town. (Though, for pho's sake I am glad that I'll be heading back to my apartment in Seattle's Chinatown in a few days--the varieties and flavors of pho are certainly far better in my own neighborhood.)

After finishing our pho, we spent the rest of the day driving out to and exploring the nearby town of Estees Park, famous for two things. Estees Park is both the gateway to the Rocky Mountain National Park and the setting of the Stanley Hotel: inspiration for Stephen King's creepy novel, The Shining.

We took most of our time lingering in the hotel bar, catching one another up on where we've each arrived in life. At the hotel we didn't buy anything more than a couple drinks, but did find it amusing to browse what was on offer in the gift shop. Among the kitsch:
stacks of the novel, The Shining ($40/book)
stacks of postcards displaying ghostly silhouettes of two girls and the text, "When your children visit our hotel they'll never want to leave again" (60¢/card)
stacks of postcards bearing the word "redrum" (60¢/card)
a basket full of metal plates each stamped with the room number "217" ($11.99/plate)
So many moments this visit have lapsed into reminiscing. Minute details of shared moments past--events I haven't thought of in years--are triggered by being back together. Erin will correct me on details of where we went one night in New York; I ask if she recalls playing with my younger brothers on a certain occasion back before they were teen-agers. Our conversation can still carry on for hours with no topic other than nuances of language structure. When I got behind the wheel of her car to drive us home last night, I realized that it was she who taught me how to drive a manual transmission--back before I had my first license, I believe.
Today was my last in Boulder. I'm off to Denver, now. Before heading to the bus station we stopped off one final place, a place I didn't imagine could exist anywhere on this continent: an authentic Tajik teahouse. Erin, a couple of her friends, and I took lunch at the Dushanbe Teahouse in central Boulder.
The entire time we were inside I had flashes back to my repeat visits to the Rukhat Teahouse in Dushanbe last summer. The architecture was so exact: carved wooden pillars, colorful floral mosaics along the walls, even text in the the Cyrillic script worked into the design. I felt I had stepped back into Central Asia. (Though in one glaringly inaccurate detail, the menu at Boulder's Tajik Teahouse was composed in perfect English.)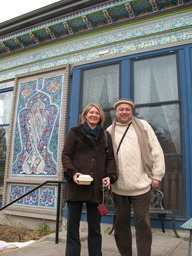 Erin and David outside
Teahouse "Dushanbe"

We sat on pads around a low table. The menu was inauthentic not only for its perfect English, but its eclectic, non-regional offerings: Italian panini, Persian kofteh, and South Indian masala dosas. I concede that a menu offering strictly traditional Central Asian fare probably wouldn't bring a booming business: even I quickly got tired of eating that region's cuisine when traveling around the 'Stans this past summer.

I ordered the one menu item that seemed most appropriate to a Tajik teahouse: shashlik and polo (a.k.a. lamb kebabs and rice pilaf). The tea selection wasn't quite right, either: the varieties of tea were from locales as exotic as the dishes. I'm sure that if there was something generically labelled "choy" I would have felt that the most appropriate. I instead accompanied my meal with something called "Honey Bush" from South Africa.

I didn't find fault with what was served. The flavors were fine for both the tea and the food. It just seemed too fancy--out of jibe with my associations of a Central Asian teahouse.

Before I packed to leave Boulder, Erin dug old photo albums out from her closet. Inside were pictures she'd shot in so many places we've spent time together: in the hallways of our high school, in East Africa, in New York City, on a jaunt up to Yorkshire... I borrowed many of her prints to scan into digital format after I return to Seattle. Now, I'm contemplating whether I should post some of those to this website, coupled with the text of whatever pen-and-paper travelogues I was scribbling back then. Would it be fair to 'blog backwards?