Time Together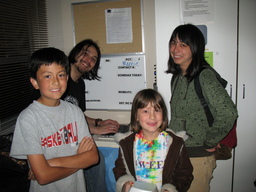 Hospital Visit: Nick,
Ben, Robin, & Jen

Seattle, USA
November 17, 2008

After the funeral in August, Ben drove Grampa's car back to Seattle. Now it's become the main vehicle for transporting Mom to and from her cancer treatments.

I flew back to Seattle at the end of October. I spent my first two weeks staying on the couch in Ben's apartment. That made it easy to trade off who played chauffeur with the car, between me and Ben. The other siblings who also have cars--Greg and Jen--drive the parents to hospital as their schedule allows. Neither Mom nor Dad have driven in years. Though there is a family car once again--this one inherited from Grampa--Dad's vision has deteriorated; Mom is in no state to drive.

Ben and I are the siblings with the most free time. It's often one of us pulling duty. Pick the parents up from their house. Drive them across town for Mom's treatment--radiation, chemotherapy, occasionally surgery--at the hospital on Capitol Hill. Drive them back home. Bring the car back to Ben's lower Queen Anne Hill apartment.

A week ago I left Ben's and started staying at Astrid's. Staying apart has complicated--though not terribly--the driving. Sometimes I have the car, sometimes Ben keeps it. It all works out. Astrid has been out of town, leaving me the run of her Wallingford apartment. As with those short days I spent staying alone in Aunt Kathy's condo, I've found myself in a sane place where I can focus for several days. Having a place all to myself is a novelty given this past year spent on the road. Even with the private pad, I often choose to meet up with somebody. Most days I call on some friend or sibling--or am the one playing chauffeur to the parents. I simultaneously find it great to have a place just to myself and feel the need to be around people.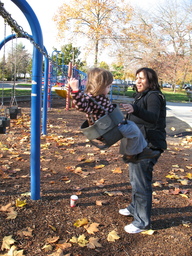 Ella & Meena

I've been seeing lots of old friends: people with whom I was close many years ago but had fallen out of contact. Meena moved back to Seattle with her family a couple months ago. She and I did spend several days catching up together in Denmark early this spring, though that was our first time in years. She and I met up a couple days ago for a walk around Greenlake with her young daughter Ella. We have plans to meet again soon, spending tomorrow morning at the park and the public library.

Saturday I called on Kim, whom I've known since childhood. Over the intervening decades she and I have gone through every level of relationship possible: from prom date to stretches of several years "not talking" with the other. Though we hadn't seen each other in a couple years I had made a point to get in touch with Kim--coffee, sushi--over recent winters visiting Seattle. This weekend we met and caught up once again: this time over impromptu Ethiopian food not far from where we attended high school so many years ago.

I haven't reflected on whether my renewal of old relationships is related to some deeper emotion to do with Mom's condition. Probably so.

Word of Mom's cancer has spread to friends and relatives. Since then, I've received so many kind messages of support--via e-mail, via chat session. These come with genuine offers to help--usually "whatever I can do". (What I find strange is that almost all of these messages come from female friends. Is it against some credo of masculinity to send a sympathetic letter?) Nena in Austin--who works as a librarian--offered to research in detail whatever I might like to know about cancer. Bonnie and Matthew--who bounced from Urumqi to Hong Kong to South Africa--are now living on nearby Vancouver Island. They shared their experiences with Matthew's mother's cancer and recovery.

Megan in Chicago, Tracey in Manchester: thank you for sharing your experiences with family who have had cancer. So many others far away have expressed support and condolences: Bonnie B. and Lisa W. in L.A., Logan in Kunming, Friederike and Jenn in Berlin--thank you. Thanks to all for your thoughts and sympathy.

I'm stuck in the mindset of this past year. My thoughts are still in terms of life on the road. Most often they wander to, "Where do I want to visit next?" I have to remind myself that I'll be in Seattle for at least the immediate months. I'm not sure what I'll be doing here. I'm torn between two directions: get a job so my money doesn't run out or maximize time spent with family over Thanksgiving, Christmas, and the New Year. I don't want to stay in Seattle long-term, so haven't explored every employment option. I did call into that temp agency I registered with this past summer. "Not much available right now, try calling again next week," was the response.

My other job-related thought was to see what I can get at some hookah lounge, a la Auntie Lulu's advice to get experience in the field. However, I've returned to a Seattle under smoking-ban. I found that all but one those trendy hookah lounges that opened up a few years ago have gone out of business. I will drop by the last remaining hookah lounge at some point. Perhaps there may even be a "Help Wanted" sign in the window, I hope.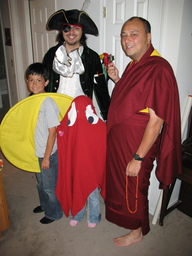 Hallowe'en: Nick,
Ben, Robin, & David

I made it back just in time for Hallowe'en--my first in six years. Though I've done less and less shopping on the road I did pick up a special souvenir when visiting the Kumbum Monastery recently--with Hallowe'en in mind. Just down the road from the main entrance was a monk's supply shop where I got a complete habit. Putting it on and walking around Seattle in crimson robes I found more of a response than I expected: people referring to me as "His Holiness", for example. I wonder how many other parts of this country so many people would know exactly where those robes are from.

Ben too dressed up for Hallowe'en. His standard costume is a pirate. Of all family costumes I found Jen's children's choice bewildering. Nick dressed up as Pac-Man, Robin as one of the ghosts that chased around the maze to devour Pac-Man. Weren't these the costumes that should have been popular back when I was their age--or even younger?

Jen purports to have no idea how her children are familiar with Pac-Man. It is true that she doesn't allow any video-game playing at home. So... why and how Pac-Man!