Second Cousin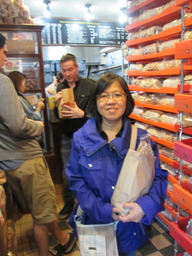 Aunt Martha at Fair-
mont Bagel Bakery

MONTRÉAL, Canada
May 24, 2015

Without understanding a word of the sermon she still knew precisely when to join in unison with all the motions. When to kneel down on the pew in prayer. When to cross herself. When to perform all the other movements in parallel with the rest of the congregation: actions that I myself recognized but did not remember the precise cue to carry out.

I suppose Aunt Martha's familiarity with the rituals of Mass makes sense. She grew up in the Philippines where she was evidently raised with a hearty dose of Catholicism.

Aunt Martha is the first to arrive among several guests whom I expect to host over this summer. ("Aunt" is more of an honorific here. She's really my dad's second cousin.) This morning at Notre Dame Basilica she followed along with Mass conducted entirely in French despite not having any ability in that language. Service at the Basilica in the Old City has become one point among the main sights of Montréal--and beyond--where I offer to take out-of-town guests when I guide them around town over their visits.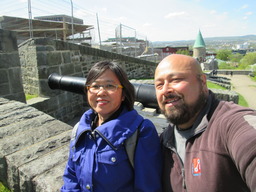 Aunt Martha and David Atop
City Walls, Québec City

Aunt Martha's timing was opportune for us to play tourist together. Today was "Free Museum Day" across Montréal. I think it's a one-off. I don't remember this day being held any previous year I've been here. Whatever the reason or the regularity it certainly worked well for us. After Mass we walked down to the Old Port to take a lunch of assorted steamed and baked buns we'd picked up in Chinatown. I left her at the Point Callière Museum from where she took a shuttle out to the Biosphère, a relic of Expo '67 set on a small island in the St. Lawrence River. I myself forked off to visit other points of interest for Free Museum Day: the Printing Museum and an exhibition of orientalist artwork at the Museum of Fine Art that I'd been hoping to attend before it closes in a few days.

Aunt Martha outside Le Lapin
Sauté, Rue Petit Champlain

In addition to the stops around Montréal that have become standard on the tour about town I offer to my guests when they visit me here Aunt Martha and I also made a daytrip to Québec City. That's often the highlight of a formula I've refined over numerous guests to share some of my favorite places from time living in that city. Pastries at the Paillard Bakery. A meal at Chez Temporel. A walk around the city walls. A visit to the old city capped by Chateau Frontenac. Our visit further allowed for an additional excursion by request from Aunt Martha. She wanted to see Chute Montmorency, the tall waterfall a short drive outside of Québec City. Even with the heavy schedule of places we toured together on our daytrip we were still able to schedule rideshare passengers in each direction to make the cost of our rental car and gas for our drive negligible.

One thing I'll say for Aunt Martha: she's among the best people I know for meeting up anywhere on the planet. Most recently we saw each other in her new hometown of Washington, D.C.. Before that, we'd connected in-person in Los Angeles, Urumqi, Chicago, Nashville, and Long Island. Who knows where we'll next rendezvous?

Finally, on Wednesday Aunt Martha will return to her home in Washington, D.C. after a full week visiting me here in Montréal. Thanks for taking the time to come calling, Aunt Martha!

Then, just 17 hours after she sets off my next guest will roll into town.