Dessert Day Trip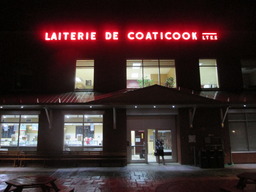 Professor Gwen With Ice
Cream Cone - Coaticook, QC

COATICOOK, Canada
June 10, 2015

This is the second ice cream factory that Professor Gwen and I have visited in as many months. On our last roadtrip back in late April the two of us drove ourselves down to Vermont for a day trip that included a stop at the Ben & Jerry's headquarters and production factory. (An extended bonus stop that has now become standard among the places I offer to take friends who come to visit me in Montréal when time allows.) Today, we're ending a full-day excursion to the U.S. at a bar laitier in the Québec town of Coaticook which houses a 75-year-old dairy of the same name.

This roadtrip has been more than a long, roundabout drive to go out for dessert. It's been a full-day affair including stops in small towns throughout both New England and Nouvelle France where we've stopped several times to splurge lightly on good food, good drinks, and good shopping.

The main motive sparking the day's drive had nothing to do with ice-cream, at-all. It was the fact that both of us were well overdue for replacing our cellphones. Buying almost anything usually costs less on the U.S. side of the border than it would in Canada. To maximize saving money on our new phones, rather than shop in Vermont, which lies due south from Montréal, we carried on into New Hampshire: a state that has no sales tax. Though the difference in cost alone would have justified making the extended drive I know that neither Gwen nor I would ever need much excuse to take a roadtrip, anyway.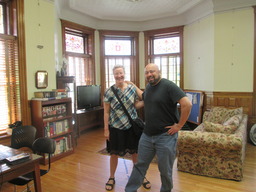 Professor Gwen and David Stand
in One Foot in Canada,
One Foot in the U.S.

Our first stop out of Montréal was, by necessity, clearing customs and immigration at the U.S./Canada border. Upon entering the U.S. I suggested that our next pause be a short drive one block east along the border just around the bend from the customs checkpoint. The Haskell Free Library is still a fully-operational lending library straddling the border. Aside from its unusual location constructed on a plot deliberately chosen to span the two countries, the library itself is a cozy place to dawdle in--a building of brick and stained-glass windows built up back in an era when such materials, detail, and craftsmanship were still affordable.

After picking up the first of our two new phones at a shipping warehouse further south along Interstate 91 our next stop was for lunch. We stopped in a small town chosen at a random along our route across New Hampshire; we couldn't have chosen a better place to pause if we'd planned the destination in advance. Littleton turned out to have characteriscally charming elements of a traditional New England town. It was built up along a river and still had a water wheel, well-maintained covered wooden bridges, and a small Main Street defining the city center that ran for several blocks parallel to the shoreline. We followed one bank of the river on foot, walked over the wooden bridge, and found a deli with outdoor seating along the riverside with the waterwheel just beneath us. There could have been nothing finer at that moment than the Yankee pot-roast sandwich each of us ordered and savored with the sound of rushing water below as we ate.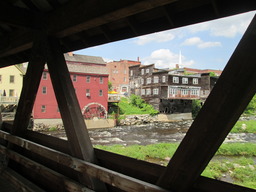 Waterwheel Seen from Covered
Bridge - Littleton, New Hampshire

Down the road from Littleton we picked up the second of our new phones. With our mission accomplished, we could have then turned around and driven right back up to Montréal. But, we were less than a half-hour drive further on to the grand, nineteenth-century hotel built up at Mt. Washington. That seemed another good place to pay an informal visit along our lazy excursion. We spent the rest of our afternoon touring the historic building, punching our SIM cards into smaller forms to fit inside our new devices, and sipping drinks out on the terrace that wraps around the building exterior.

I'm glad we went the extra distance to visit the hotel. The grounds certainly looked different from how I remembered them over Thanksgiving. Back then, much of the area was covered with snow and there were far fewer guests about.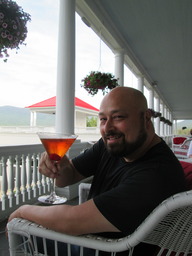 David with Rye Martini
at Mt. Washington Hotel

I've been through this part of New Hampshire several times over recent years as it's Logan home turf. The most significant occasions were to attend her and Olivier's wedding and their first baby shower. I had hoped that there might be some fortunate coincidence over which she'd happen to be back in the area visiting her father. That would allow Gwen and me (we both knew Logan from days back in Urumqi) to meet up another time. But, no, Logan's family seems well-settled back across the state line down at the far southern end of Vermont. They're probably even all-the-more ensconced as the family has grown by another child as of just a few months ago. We'll all get together somewhere another time before long, I'm sure.

Getting ice cream here in Coaticook was the logical final visit along our road trip. The bar laitier within the ice-cream factory stays open until 11:00. Both Professor Gwen and I were well-familiar with the local brand of ice cream that's stocked in every supermarket across Québec. The maple sugar flavor is both of our favorite though we each opted for other flavors from the scoop shop display case, flavors that I hadn't seen available in any grocery store.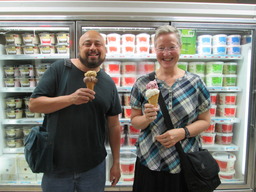 David and Professor Gwen at
Coaticook Ice Cream Factory

There didn't seem to be any opportunity to take a guided tour through the plant as we did when we visited that other ice-cream factory a couple months ago. There was a small installation displaying background information and some hand tools dating back to the 1940s that were used in the process of making butter and ice cream. Large windows behind the scoop counter allowed us to peep into the main areas where late-shift factory workers were producing cheese and ice cream late into the night. It's been a good way cap off a full day of driving.

Now, we both have new phones to configure back in Montréal. Thanks for bringing your car and for playing driver, Gwen! I'll be game anytime you're up for another trip to any ice cream factory.